Board of Directors
Linda Rappaport (Chair)
Katey Metzroth
Jason Treuting
Laifun Chung
Mark DeChiazza
Robert Sirota
STAFF
Felix Reyes - Studio Manager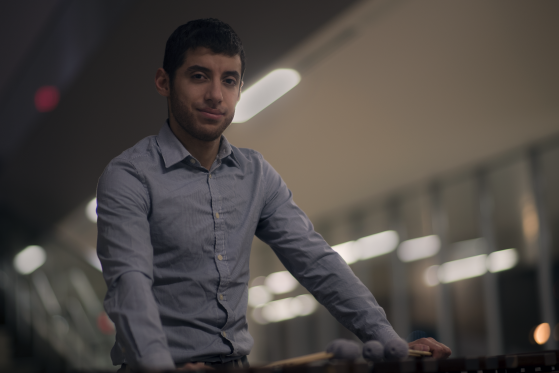 Having a strong background in studying keyboard percussion with marimba virtuosos Keiko Abe, and Dr. Isabelle Huang, is constantly looks for ways to incorporate his chamber marimba training with his interest in contemporary Japanese music and social activism. As a native to New York, has performed with chamber ensembles throughout New York City in venues such as National Sawdust, Kaplan Penthouse at Lincoln Center, Kaufman Music Center, and universities across the U.S. such as Indiana University, Princeton University, the University of Notre Dame, Cincinnati Conservatory of Music, Humboldt State University, and the University of Georgia. Felix has also performed in recitals internationally in countries such as El Salvador, Japan and Germany.
Over the years in his travels he has also performed in numerous international percussion workshops such and has worked with countless acclaimed international artists and composers that include all members of Sō Percussion, Katarzyna Mycka, Ney Rosauro, Jean Geoffrey, Michael Colgrass, Dai Fujikura, Jennifer Hidgon, and Kaoru Watanabe.
Felix currently lives in New York City where he works as studio manager for Sandbox Percussion, performs in several chamber groups as a freelance percussionist such as SoundVox and Symmetrio, and teaches percussion privately in various capacities, including a roster of students from Brooklyn and Long Island, NY. His current performance activities include preparing for upcoming performances in Alicante, Spain with marimbist's Magdalena Myrczik and David Almagro Garcia as percussion chamber trio Symmetrio, preparing for duo performances in China with German percussionist Sebastian Gokus, and preparing Vic Firth premieres of new commissions by composers Christos Hatzis, Wally Gunn, and Alan Hankers.
Felix is a proud endorser of Vic Firth sticks and mallets.
More info can be read on his website at: https://www.felixreyespercussion.com/
Madeline Dethloff - administrative assistant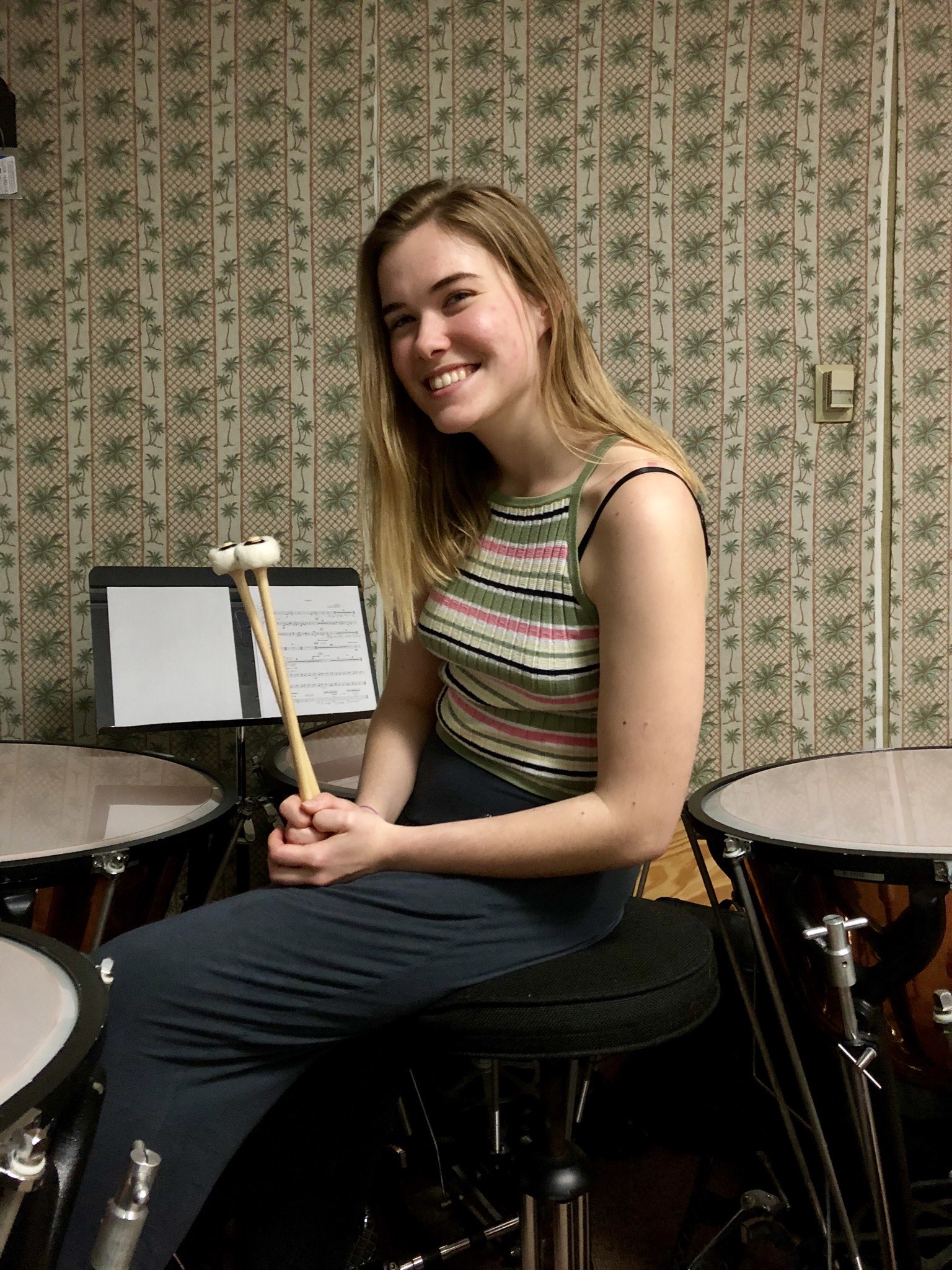 Originally from Lawrence, KS, Maddy is currently a masters student and teaching assistant at the University of Massachusetts Amherst studying under the direction of Ayano Kataoka. Maddy has had performances with the Vanderbilt Jazz Band, Eschaton New Music Ensemble, Chatterbird New Music Ensemble, and Roy Wooten's New Village Orchestra. As a soloist, she has performed the second movement of Séjourné's vibraphone concerto with the Southern Adventist Symphony Orchestra in Collegedale, TN. A big advocate for new music, Maddy and her colleague Sam Carullo put on a duo concert in fall of 2019 premiering five new works by composers from all over the country.  Internationally, Maddy has premiered music by Lila Meretzky with the marimba virtuouso, Ji Hye Jung, in Cortona, Italy for Cortona Sessions for New Music, and she has been a part of the Orquesta Colombo Americana de Vientos in Colombia, South America. She has attended summer festivals such as the So Percussion Summer Institute, Duff Timpani Masterclass, Zeltsman Marimba Seminar, Sandbox Percussion Seminar, and the Chosen Vale Percussion Seminar. Looking to further her growth and knowledge of chamber music, Maddy has been an intern for the Brooklyn-based percussion quartet Sandbox Percussion since August of 2019. Maddy received her Bachelor's in percussion performance at Vanderbilt University studying under the direction of Ji Hye Jung and Lee Vinson.
Katherine Fortunato - administrative assistant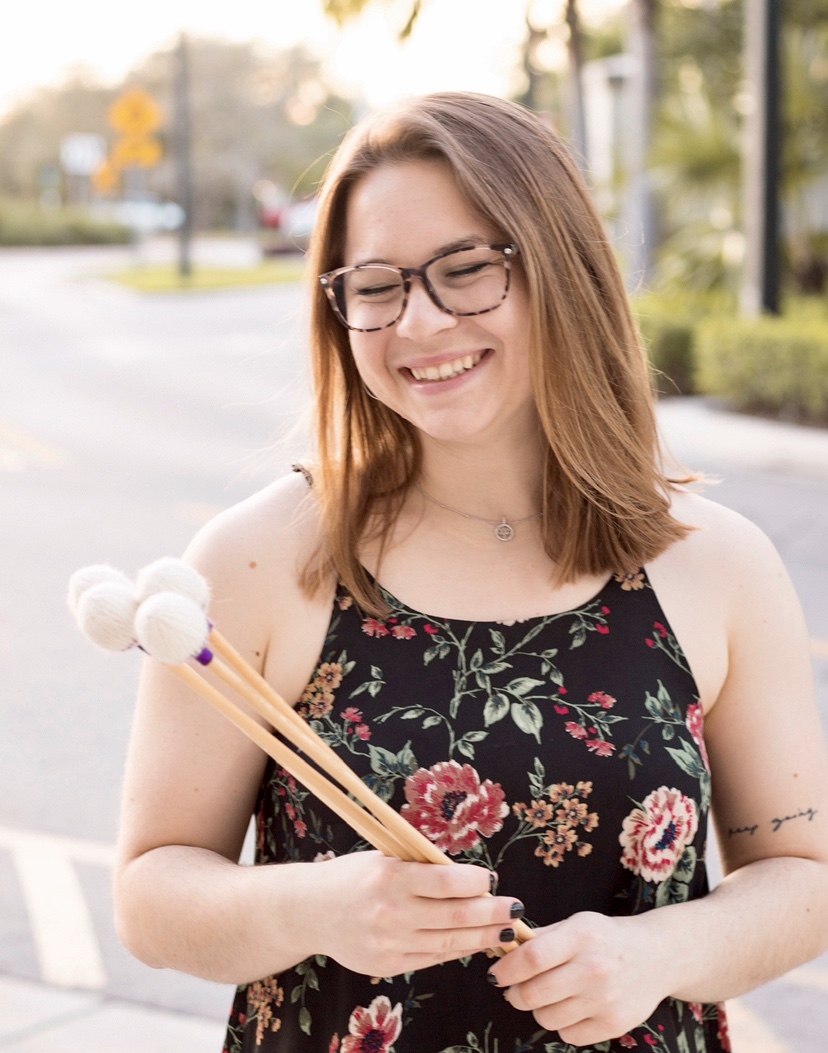 Praised for her "passion in every note" and "rich dynamic expression" (Artburst Miami), Katherine, a senior at the Frost School of Music at the University of Miami, has devoted the majority of her life to the pursuit of percussion.  Hailing from Chester, New Jersey, she began her studies at age 8 and has since explored orchestral, chamber, contemporary, and jazz percussion in great depth.  Katherine is fortunate to have performed in venues such as Carnegie Hall, National Sawdust, Caramoor Center for Music and the Arts, Schonbrunn Palace, the Musikverein, Béla Bartók National Concert Hall, Wiener Konzerthaus, as well as other venues throughout Europe and North America.
Katherine has premiered works by Gordon Stout, Dave Maric, Benjamin Montgomery, Kira Namiko Wales, and other driving forces in music. In masterclasses, she has worked with Aiyun Huang, Colin Currie, Doug Perkins, Ted Atkatz, Jason Haaheim, Eduardo Leandro, and Robyn Schulkowsky. Katherine strives to continue creating connections through solo and chamber music to expand the repertoire and reach new musical heights.
Katherine's pedagogues include Svet Stoyanov, Matt Strauss, Joe Petrasek, Greg Zuber, Errol Rackipov, and John Yarling. Katherine has interned for Sandbox Percussion since April of 2018. An avid teacher, she has mentored students throughout New Jersey and Florida and runs her own private studio in Miami, Florida.